"An idea crafted by lead singer/songwriter Sarah Michel and her good friend Anyalita San aka Guerrilla Tactics, who directed the video, initially started out as a zero budget project.
The mission was to film a music video in a rainforest in Indonesia, where Michel had once resided. The vision and direction for "Game for Two" quickly turned into a four-country odyssey as Michel explained: "Back in summer 2014, I was visiting Bukit Lawang, the village I have been visiting and have lived in from time to time since 1996 in North Sumatra on the borders of Gunung Leuser National Park. It is where I truly fell in love with music. Every night the people there jam, playing acoustic versions of covers from traditional music to pop and especially 90s rock! 
"On this visit, I met two amazingly gifted guitarists, John Retno and Pandi 'Blues Bear' and they were interested in playing some of my original songs", Michel continued. "We filmed two of the songs on a very homemade video, one of them was Game for Two. I showed the video to my friend Anya, who is an independent filmmaker, who said 'why don't you record this properly and then we'll make a proper music video in Indonesia?'"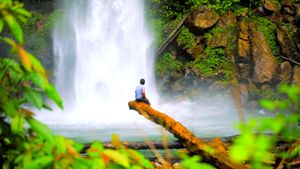 This is the Indonesian  version of Game for Two - "Permainan Berdua" - On the right you can see some videos from behind the scenes with our musicians in Indonesia.
Please share if you enjoy it and tag us @Pandorasdiary Thank you <3 
This is how independent music spreads.
Locations: Bukit Lawang (Indonesia) - New York (USA) - London (UK) - New Orleans (USA)